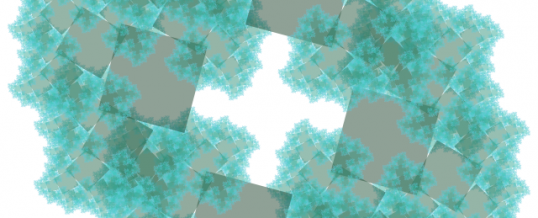 Last year I've neglected my personal blog quite a bit in favour of the Fractal Future Forum. Still, I want to use this blog for presenting my most important thoughts, articles, as well as my personal journey and progress. The last year has been significantly different for me. But to give you a better view of my progress, I also add the last three months of 2014 to my personal progress report. So, let's review what happened:
2014
October
During this month I recovered from an uncomplicated fracture of my left collarbone that happened at the end of September while I was riding my bike through the forest. Getting into a sharp downhill curve covered with wet leaves turned out to be a really bad idea. Anyway, the fracture was more annoying than painful.
Unfortunately, this injury has had a negative effect on my general motivation, so I didn't manage to do anything really noteworthy that month.
November
I made the blog post titled Quantified Prestige – Making Intellectual Property Obsolete, which included the second YouTube video that I have ever made.
I also cut out the antidepressant that I have been taking for years to deal with the negative psychological symptoms coming from ME/CFS, because I felt like I didn't really need it.
December
During the last month of 2014 I created the Social Future Metanet, which would later be rebranded into the Fractal Future Network. The Social Future Metanet started out with a simple PHP-based Simple Machines Forum: the Social Future Forum. It was intended to become a place for the technoprogressive / social futurist community, since I was convinced that Facebook and blogs weren't enough to support serious discussions and projects.
During the same month, I also did an internship in a small company.
2015
January
I migrated the Social Future Forum to Digital Ocean and then restarted it as Discourse forum.
During this process I learned a few things about managing VPSs (Virtual Private Servers).
And I continued my work in the small company mentioned above with a minor part-time job.
February
March
My general energy level has dropped significantly. This made me feel like my general recovery from ME/CFS was in peril.
April
I decided that I needed to do more to fix my health issues and started my "antioxidant carpet bombing" experiment: To get oxidative stress under control I started maximizing my intake of antioxidants. Besides my general supplementation regime, I've taken vitamin C (several g per day), OPC, Q10, astaxanthin, and several "superfoods". That hasn't really restored my energy level, but at least it seemed to have provided a good basis for further health stabilization methods, most importantly trying to stay relaxed under all conditions.
May
June
Apparently, my energy level has recovered and was surprisingly stable.
I've finished my post series "Presenting the REPDEV Network", which explains how a new kind of economy based on reputation incomes could be bootstrapped with a new form of organization structure.
July
Found out that doing long biking tours improve my digestion and make me sleep much better!
Got into contact with a movement supporting the global basic income idea.
August
Motivated by complex philosophical conundrums, I shifted my primary personal goals to obtaining wisdom and strength!
September
Started with a new morning routine, consisting of:

Quick bodyweight exercises and stretching
Taking a cold shower
Drinking a glass of water with 1 g vitamin C
Meditating for 20 minutes
Drinking a cup of decaf coffee (with added cocoa powder)

Increased the working time of my part time job in order to get some more money.
Released the 3rd version of the documentation of my Quantified Prestige system.
Became a founding member of the Transhuman Party Germany (TPD).
October
November
Coded a Fractal Generator web application that can make nice IFS fractal images with (vanilla) JavaScript.
Generalized my conceptual virtual currency called Fluido (part of my Quantified Prestige framework) to the versatile concept of flux currencies.
Verified that I can effectively suppress most symptoms of trivial infections with vitamin C megadoses and other supplements!
December
Overall Progress of my Health
What is exceptional about my last year is that I had the energy to do a lot of constructive things. That is unusual, since previously I would crash even after doing something only moderately difficult. In hindsight, it's my "antioxidant carpet bombing" strategy that most likely stabilized me nearly completely, so that I wouldn't suffer from those debilitating energy crashes. So, this is the first year that I got my health issues basically under control, even though I don't feel really very good. There are still many symptoms that indicate that I have a chronic health problem, but the big difference is that I am reliably basically functioning now, which is something I can't really claim for my previous years.
Keep on Trying!
I did many different things last year, but none of them transformed into any kind of big resounding success. I've become acutely aware about how difficult it is to get people really interested and engaged in anything really worthwhile. Even the best ideas, projects, and products are worthless, if they fail to set people ablaze with passion. Connecting with people on an emotional level about something that is intellectually sophisticated is harder than I had expected. Nevertheless, that doesn't mean that it can't be done. Real progress is possible, but we need to give everything we have for that purpose, if we even want to have a chance.
Share