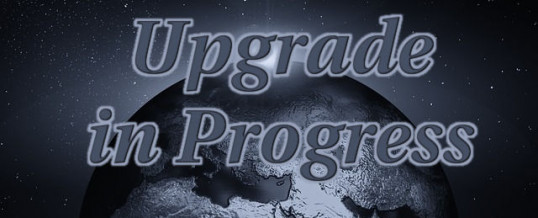 Video Introduction: Radivis and The Universal Upgrade
What's The Universal Upgrade?
The Universal Upgrade is a process that spans an interval in history of a planetary civilization. It is defined by the transformation of life that uses technology to improve itself internally in order to obtain new capabilities. The result of a successful Universal Upgrade is an upgraded civilization that has completely transformed the world it lives in. The environment has been saturated with sophisticated networked intelligence.
Why Is The Universal Upgrade A Useful Concept?
The concept of the Universal Upgrade is supposed to be an alternative to the concept of the Technological Singularity. In futurism, the Technological Singularity is a concept that has been originally defined by the emergence of an entity with "superhuman" intelligence. More recently, it has been doubted that the concept of the Technological Singularity is a useful construct to think about the future; and there have been calls for finding alternative ways to think about similar future developments. My concept of the Universal Upgrade is an effort to provide a more thorough and specific way to think about the future.
What Are The Problems With The Concept Of The Technological Singularity?
I see the following problems:
Despite the relative clarity of the original definition of the Technological Singularity, the term is used in wildly different ways with rather different definitions and perspectives. This causes a lot of confusion and makes the term overall less useful for clear thinking about the future, because it has become very fuzzy.
Even the definition as emergence of "superhuman" intelligence is not so clear. What counts as "superhuman" intelligence after all? How would we recognize it, if an entity actually had a "superhuman" level of intelligence?
Most definitions put an undue emphasis on "intelligence". While intelligence is an important factor, in general there are other factor that can be much more important than intelligence on its own. For personal success, persistence is much more important than IQ for example. In evolution, intelligence is not even required as many species with an almost non-existent level of intelligence are exceedingly successful. Finally, intelligence on its own is useless without the right tools, resources, abilities, and freedoms to interact with the environment effectively.
Due to this plethora of different definitions of the Technological Singularity, it is not clear which point in time it actually represents. Is it the emergence of human level artificial intelligence, or the emergence of a "superintelligent" being? Or is it a place in time from which on the world becomes "incomprehensible" for unaugmented humans? Another possibility is that the Technological Singularity is supposed to be some kind of "event horizon" in history. That event horizon is defined as point in time after which we cannot make any meaningful predictions about the further futre anymore. So, this multitude of definitions makes it impossible to definitely say whether the Technological Singularity has happened or not! This makes it more of a "non-event" than an actual event!
It puts undue emphasis on a single point in time, rather than the processes surrounding and giving rise to it.
Often, it is said that the Technological Singularity is so special that it changes everything so radically that we cannot predict its final outcome in any way whatsoever. Unfortunately, this way of thinking can be compared to blinders for the far future: People just stop thinking about the further ramifications of a radical event like the Technological Singularity.
The Technological Singularity has been termed "The Rapture of The Nerds". Sometimes, the Singularity is seen as some kind of salvation that solves all of our problems at once and afterwards we will live in some kind of techno-heaven or utopia. The role of our actions is reduced to bringing forth the Singularity. Afterwards we would have no responsibilities, because the Singularity would have solved every problem for us.
Some people even see the Singularity as inevitable. This historical determinism is not realistic at all. Many different events could actually prevent the Singularity from happening.
How Is The Universal Upgrade A Better Concept Than The Technological Singularity?
At the moment, the precise definition of the Universal Upgrade is still a work in progress, but I aim for certain goals:
Providing a definition of the Universal Upgrade that is specific enough to say whether it has started or not, and whether it has been completed successfully in the future or not.
Showing up different possible scenarios divided into four different classes:

Full success: The Universal Ugrade has been completed and the world has been transformed/upgraded in its totality.
Partial success: Some aspects of an upgraded civilization have appeared, but in other aspects the civilization (still) fails to bear the characteristics of a fully upgraded civilization. This class of scenarios can be further subdivided into two different subclasses: One in which the civilization is on the course to a Universal Upgrade and another one in which it gets stuck in a suboptimal state that prevents the unfolding of a full Universal Upgrade.
Delay: Certain catastrophic events could delay the process of the Universal Upgrade by decades, centuries, or even millenia. One examples for that is the emergence of a global totalitarian regime stopping critical progress. Another one is a possible collapse of civilization that destoys our advanced infrastructure – and possibly even our knowledge base.
Extinction: A global catastrophic event, or chain of events, could wipe out humanity and all of its technology entirely. This would obviously stop the Universal Upgrade from happening here on Earth for a very extended time. However, it might still be possible that after tens or hundreds of million years another species will develop technological capabilities that could lead to a Universal Upgrade.

In accordance with general futurism, I state that we can make meaningful predicitions about the far future even if that future may be rather strange compared to our current state of affairs. The Universal Upgrade does not come with an "event horizon" that would stop us from peeking even further into the future.
I want to present a class of scenarios that are among the "full success" scenarios for the Universal Upgrade. This should represent a positive and achievable vision of the future towards we could strive. This vision could then be discussed in detail to see whether it is actually desirable, and whether it can be improved in some way or another.
The Universal Upgrade focuses on a broad spectrum of developments which are expected to happen in the process of approaching an upgraded world. As the word "universal" suggests, the upgrade is universal and will affect about anything we know. It represents a total transformation of the world in many different areas of interest.
Why Is It Called The Universal Upgrade Anyway?
Futurists predict a "great transformation" of our world. That's why I asked myself what would be really characteristic for that great transformation that I expect. My answer to that question is that it's a transformation that will affect almost everything – in contrast to other historical transformations in the past which have changed a lot, but not everything. Because the transformation is about to change everything, I call it "universal" – as opposed to "special", "specific", "partial" or similar restricting adjectives. I call the transformation an upgrade, because it is a process that is directed towards the realization of interests of sentient beings – in contrast to natural processes that can be value neutral or be perceived as bad. Humans and other sentient beings strongly prefer to live in a "better world", so they have incentives to work towards this general goal. The great transformation is mainly enabled by technology, which is a powerful tool to change the world in various ways. So, technology offers an effective means to actually move towards a state of the world that is seen as more positive. Such a general transition towards a more desirable state of something is often termed as upgrade.
When Does The Universal Upgrade Start?
I define the starting point of the Universal Upgrade as the point in time in which "internal technology" can grant sentient beings new capabilities that are extremely unlikely to develop in natural ways and that can't be achieved with "external technology". The term "internal technology" refers to material technological tools that cause changes inside of the bodies of sentient beings. Medical technologies like implants or prostheses are examples for internal technology. However, conventional medical internal technology aims for the restoration of natural capabilities, so it doesn't represent the beginning of the Universal Upgrade.
Now, what does represent the initiation of the Universal Upgrade? It's the development of brain-to-brain interfaces. Why? Because they enable a capability that is not seen in nature: Telepathy! Because rudimentary brain-to-brain interfaces have already been developed in 2013, the Universal Upgrade has already started in that year.
If we would consider an alien species that had evolved some form of telepathy through natural evolution, we would need to identify another significant capability which that species doesn't already have, and which could be added with internal technology.
When Does The Universal Upgrade End?
The Universal Upgrade can be seen as composed from three different upgrades:
A Personal Upgrade: You can do almost anything.
A Social Upgrade: Your wellbeing is secured.
And an Environmental Upgrade: The world is alive.
Once one of these upgrades is completed, we are dealing with a partially upgraded world. Only when all three upgrades are completed, can we speak of a universally upgraded world. Nevertheless, there is an underlying theme to all these different upgrades: The flourishing of sentient beings enabled through the mastery of technology that enables the control of matter on the atomic scale.
The Personal Upgrade: You Are Awesome
Personal possibilities are vastly expanded due to progress in various fields of technology and industry. A completed Personal Upgrade is characterized by the following possibilities:
Optionality of suffering: You have the ability to opt out of suffering. Advanced neurotechnology allows you to switch off pain, suffering, depression, anxiety, joylessness, boredom, and foul moods at will.
Complete and persistent self-repair: Your body can heal and regenerate itself at the molecular level indefinitely. Ageing is purely optional and can be reversed easily. If you use implants and prostheses, you can choose models that also have the ability to repair themselves just as effectively as your biological parts do.
Travel to habitats outside of Earth: There are habitats in space that earthlings can visit freely and at affordable costs.
Direct semantic communication: Neurotechnology is so advanced that your thoughts can be encoded into a universal semantic code. This means that the full meaning of your thoughts can be transmitted to others directly. Old fashioned and error prone symbolic communication is not required anymore to get a point or a concept across. Now you have a universal translator for "mentalese"!
The Social Upgrade: Society Is Awesome
Society is extremely resourceful and provides a decent standard of living and nearly unlimited possibilities for everyone. The Social Upgrades manifests itself in the following ways:
Information Commonwealth: Information not only wants to be free, it is actually free. All knowledge and cultural wealth is part of the global commons and freely available to everyone. Patents, intellectual property, copyright, and trade secrets are a thing of the past. Culture and economy profit tremendously from the free access to the best information.
Sentient Rights: All sentient beings are granted basic rights that maintain their freedom and safety. There are no industries that are based on the ruthless exploitation of unprotected classes of animals, humans, or artificial minds. Further rights are granted according to different characteristics of sentient beings.
Full morphological freedom: Sentient beings have access to means for choosing their own body and mind morphologies freely. Society allows them to edit their own genomes and connectomes – at least as long as those modifications don't pose a significant risk for themselves or others.
Social mobility: There are no restrictions which stop certain classes of sentient beings from obtaining a specific status in society. Every sentient being must be provided with the necessary means and opportunities to grow and upgrade itself so far that it can in principle fulfill any function and any available office in society. With sufficient determination and willingness to upgrade yourself as much as required, you should have a chance to obtain any status with a chance that is about reciprocal to the amount of competition from beings with similar determination and upgrading mentality.
The Environmental Upgrade: The World Is Awesome
At our current level technology is mostly harming our "natural" environment. with sufficiently advanced nanotechnology however, nature can cleaned up and even upgraded. Technological infrastructure interweaves with biology and unlocks incredible possibilities. With a successful Environmental Upgrade the world would look like this:
Sustainability: Environmental degradation has stopped and the biosphere is a more life friendly place than it has even been. Energy and resources are extracted from the environment only at sustainable levels. Our civilization could last for billions of years.
Global telepathic/empathic network: You have access to the hypernet everywhere. The hypernet not only connects computers with each other, but also the minds of humans, animals, and artificial sentient beings. Sharing information, sensory data, thoughts, and feelings with everyone has become second nature.
Pervasive responsive environment: The hypernet is embedded into the environment, so that interactions with all aspects of the environment can be mediated by intelligent agents. Such interactions are characterized by the ability to send requests to any element of the environment and the condition that you actually get an intelligent repsonse to that that request. For example, you could ask the ground about its mineral composition and would get a reply that contains that information. Or you could ask machines how they work and how they are operated. Your questions will be answered, unless you are impolite.
Replicator grid: Finally, the hypernet also connects you with a globally distributed infrastructure of replicators that can manufacture almost any good you could desire. Goods are produced with atomic precision. It does not matter where you are. Even in the deepest jungle you can ask for "Earl Grey, hot" and you will be served one!
Will Humans Be Ruled By Machine Overlords?
In the grand cosmic scheme of things, a Universal Upgrade would be a very good thing. But what about humanity? What will be its role after the Universal Upgrade has been completed? There are basically four different pathways that the Upgrade can take:
The Conservative Upgrade: Upgraded humans remain in control. This may not tell much about the humans who do not upgrade themselves, though.
The Reformative Upgrade: Upgraded humans and non-humans share power.
The Revolutionary Upgrade: Some form of upgraded non-humans take over and rule over Earth. Even upgraded humans have no significant influence on politics.
The Genocidal Upgrade: For some reason or another, humans might be eliminated by non-humans. Afterwards the world is 100% human free.
Actually, it doesn't matter too much which of the first three paths is taken. After all, full morphological freedom implies that sentient beings are not stuck being humans or non-humans and can switch between these categories freely. In any case, it is important to take effective measures to prevent a Genocidal Upgrade, because humans would hardly be motivated to work towards a Universal Upgrade if they expect that they won't survive it.
Share